Welcome to Direct Japan website. We sell Japanese sweets (we call it "Japagashi") by the internet. Do you want yummy, kawaii, and rare Japagashi? If you join our Japagashi Club, we send Japagashi box, a parcel filled with various kind of Japagashi once a month!

The size of parcel is about 8.6x11x6 (inch) but its weight and number of sweets depend on the contents. What kind of sweets do you like? Chocolate? candy? snacks? marshmallow?...We will select over 10 kinds of Japagashi including rare one sold in only Japan. Get your Japagashi now!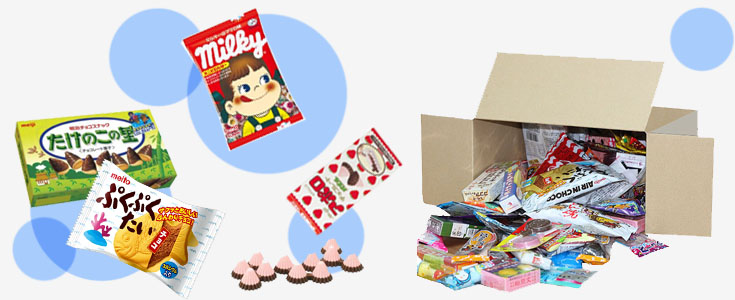 We accept PayPal only. USD 69$/ month for a monthly box (shipping fee is included). Shipping is included to anywhere in the world. Click a sign-up button above (green) to pay.
*After you press the button, you will be taken to PayPal to set up your monthly subscription. Make sure your address is correct.

If you would like to give Japagashi box to someone as a gift, after making your PayPal order please send an email to info@directjapan.jp noting your PayPal email address and the address you would like the subscription sent to.
A parcel each payment entitles you to will be sent at the end of each month. If you have any questions, you can write to me at info@directjapan.jp or check the FAQ.